Post-Pregnancy Fitness: Sharon's Pilates Journey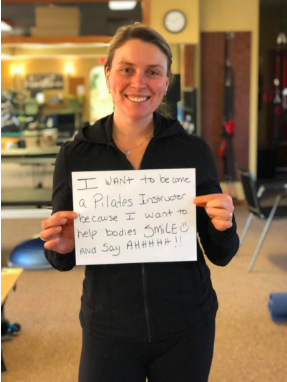 From journey to
getting fit post-pregnancy
to a
becoming a Pilates trainer,
meet
MOVE Wellness
Pilates apprentice
Sharon Hillenaar!
Sharon never considered herself particularly athletic. In fact, she says that "hard, core 
exercise was always a little bit of a struggle." Given that core exercise is one of the most fundamental components of Pilates, we find Sharon's story really inspiring for those who are a bit nervous about beginning Pilates.
Staying motivated post-pregnancy
A brand new mom living abroad, Sharon committed herself to post-pregnancy fitness. She started visiting the gym regularly and running, eventually signing herself up for a half-marathon. But the goal to lose weight transformed into a much deeper desire to become fit and live a healthy lifestyle. Sharon started exploring different avenues to becoming fit. She went to the gym, started taking spinning classes, and doing exercise programs like PiYo and Yoga. Her love of spinning became Sharon's motivation for eventually getting certified as a spinning instructor.
I realized that I really enjoyed being in this type of environment and decided that I would pursue my personal trainers certification, which eventually led to other certifications such as PIYO, Cardio drumming, Schwinn, and a host of other mini classes I took over the years…. As I explored different avenues that would help my career but more importantly my clients, I decided to explore a Pilates Certification. Not knowing ANYTHING about Pilates, I did not realize how intense this form of exercise is for the body, mind, and breath.  I feel like this will be a perfect addition to my experience and training background and will allow me to offer more to my clients not only in a pilates class scenario but also to my overall trainer education.
What was it about Pilates?
One evening during a yoga class I was teaching, one of my clients approached me and mentioned that she had been doing Pilates and how much she enjoyed it. She spoke so enthusiastically about it that I was compelled to go home and read more about it. The more I read, the more I was able to see how beneficial Pilates could be for clients. I was specifically intrigued by the vast repertoire and how effective the movements were to effectuate change within the body especially from a strengthening, mobilization, toning and rehabilitation stand point.
Pilates Benefits for Post-Pregnancy Fitness
For Sharon and many others, Pilates exercises became so beneficial to add to any workout routine. Pilates benefits a wide demographic of people. Pilates can help increase strength, lose inches, heal from injuries, and maintain flexibility and mobility.  Pilates emphasis on deep abdominal connection and pelvic floor health makes it perfect for pregnant and post-natal women.
Finding MOVE's Instructor Training Program
As I began researching studios that offered the Pilates instructor training program, I stumbled upon the MOVE program. It was perfect for me because the course was offered over the weekends and was in Ann Arbor.  However, that wasn't the only deciding factor.  After having an extensive conversation with Elaine Economou, who address my lengthy questions and concerns, I truly felt like this program was different. The modulated program, the apprenticeship program and availability to mentors and trainers was exactly what I was looking for.
If you're a newbie and feeling apprehensive, Sharon offers this advice:
Not having done more than a few Pilates classes myself, I was truly a newbie. Even though I had a background within the fitness industry, there were many occasions when I felt like I was learning things for the first time. At those moments, I reminded myself to breathe and not to be hard on myself. The program is information rich, and at first it will feel like a mumbled heap in your brain. Then all of a sudden, the program comes full circle and it all makes sense.
"This program is not just an instructor training course, it's an education. Trust the process, believe in yourself and remember, the MOVE program will walk you through, one step at a time." – Sharon
Start Your Pilates Journey
Sharon is on her way to becoming a Pilates instructor through the MOVE Instructor Training Program and we know she'll do great! If you have any questions about pilates classes, the MOVE Instructor Training Program or becoming a Pilates instructor, we'd love to chat! Please email us at office@movewellness.com. You can also stop by one of our MOVE Instructor Training Coffee Chats this fall to have your questions answered over a cup of coffee with MOVE Wellness founder and president Elaine Economou.
https://www.movewellness.com/wp-content/uploads/2023/11/Screen-Shot-2018-09-21-at-3.43.15-PM-1.png
382
287
ijtdev
http://www.movewellness.com/wp-content/uploads/2023/07/MOVE-Wellness-Website-Logo.png
ijtdev
2018-09-21 19:45:25
2023-12-03 20:24:42
Post-Pregnancy Fitness: Sharon's Pilates Journey