Client Story: Pilates helped me hike the Utah desert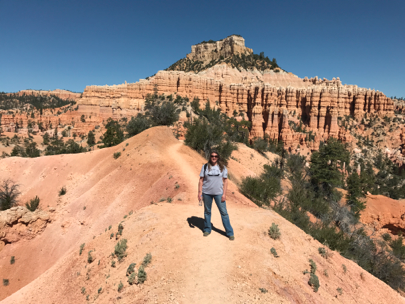 Emily Douglas has been training at MOVE Wellness Studios since we opened in 2014. She recently returned from an adventure in Utah where she hiked nearly 30 miles at elevation across several national parks in the area! She credits her overall strength and endurance to training at MOVE Wellness Studios before the big trip. Emily was kind enough to share her trip with us below.
Where did you go on vacation? Southern Utah. I work for a non-profit organization called Best Friends Animal Society. Every year we all travel to Kanab for "All-Staff Week" for meetings, outings and time with the animals at the Sanctuary. Kanab is located in the southeastern most corner of Utah, smack dab in between Zion National Park, Bryce Canyon and the Grand Canyon.
What did you do? After all of my work-related activities wrapped up for the week, I stayed for three extra days to hike and explore in the area for my 40th birthday. Over three days, I hiked nearly 30 miles at elevation across a couple different national parks in the area, and drove close to 1,000 miles. On one day, I spent nearly seven hours hiking around South Coyote Buttes, which is part of Grand Staircase-Escalante National Monument. The next day, I did the 6-mile round trip hike out to Calf Creek Waterfall. And I hiked the 8-mile Fairyland Loop Trail at Bryce Canyon on my final day, before doing the 4.5 hour drive back to Las Vegas airport for my flight home.
Emily at the Wave
What was your favorite place you visited? The Wave, an iconic sandstone formation located in Grand Staircase Escalante that is protected by the Bureau of Land Management. Only 20 people a day are permitted to hike into the area. The hike out to the Wave is an unmarked, open wilderness/desert area at about 5,200 ft elevation. It's a challenging hike involving multiple types of terrain. You're scaling up rock formations one minute and trudging through thick sand dunes the next. It was mind-blowing.
What did you do to prepare for your trip? I increased my workouts significantly and focused on inflammation reduction, which meant everything from herbal infusions and clean eating to stretching and limiting alcohol consumption. I attended Power Pilates with TRX on Tuesday mornings and Thursday afternoon Mat class with Angela religiously. The core engagement routine we do in both of those classes combined with the leg and back work on the TRX made a huge difference for me in overall strength and endurance. I also took much of what I learned in Nicole's and Julie's Shred classes and repurposed those exercises to create my own Tabata workouts.
How did training at MOVE Wellness Studios help your health and wellness during your trip? My organization actually owns a wellness center in Kanab that I can use for free. So I was able to go in early every morning to the gym and do my own Pilates routines and workouts to start the day off right. I also bought myself a cheap foam roller to keep in my hotel room and did a number of stretching and core routines in my hotel room in the morning and at night that my various MOVE Wellness Studios trainers have taught me.
In the past, coming home from an 8-day trip like this that involved long flights and many hours driving in the car would result in me spending many weeks in and lots of money on physical therapy to get things back on track due to a hip impingement and spinal dysfunction. In fact, I was able to jump right back into my workout routine once I got home and haven't had any problems since. That in and of itself is a miracle. Happy 40th Birthday to me. 🙂
---
Need some help getting conditioned for an upcoming trip? Whether you attend group classes or private training sessions, MOVE Wellness Studios's expert trainers can help you reach your movement goals. Call us today at 734.761.2306 to schedule an introductory private session to discuss your needs and fitness goals.
https://www.movewellness.com/wp-content/uploads/2023/11/pasted-image-0.png
304
405
ijtdev
http://www.movewellness.com/wp-content/uploads/2023/07/MOVE-Wellness-Website-Logo.png
ijtdev
2017-07-09 20:55:18
2023-12-03 20:24:26
Client Story: Pilates helped me hike the Utah desert