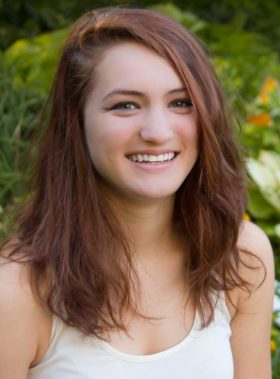 MOVE Wellness Studios Apprentice Pilates Trainer Natalie Krienke

Our new group of trainers have completed their MOVE Wellness Studios Pilates or GYROTONIC Instructor Training Programs and are coming on board as MOVE Wellness Studios Trainers. This week, we shine the spotlight on Pilates Trainer Natalie Krienke.
You may already know that Natalie is MOVE Wellness Studios owner Robin Krienke's daughter but did you know that she is a accomplished dancer as well? We are so excited she is joining our team as an apprentice Pilates instructor this summer. Natalie will also be teaching a Pilates Stretch, Strength, and Endurance class and is available for private sessions for a limited time before she heads back to college. Catch her while you can!
"I love the atmosphere at MOVE Wellness Studios, because while everyone there is working on their individual goals, we are all working towards a better community of wellbeing. Julie Simpson, the Physical Therapist at MOVE Wellness Studios, inspired me to become a Pilates trainer. I had been doing Pilates for over 4 years, and her ability to combine physical therapy and pilates for the goal of rehabilitation has amazed me. To me, wellness means being able to do what you want to do on an everyday basis, without having to worry about how it might affect you physically. I am inspired at the way Pilates is able to alter how bodies move. It incorporates strength, coordination, breath, and so many other things that brings a sense of balance back to the body."
Schedule a private session with Natalie. Please contact us at 734.761.2306.
https://www.movewellness.com/wp-content/uploads/2023/11/IMG_5910-Natalie-Krienke-e1527812990756.jpg
379
280
ijtdev
http://www.movewellness.com/wp-content/uploads/2023/07/MOVE-Wellness-Website-Logo.png
ijtdev
2018-06-01 00:43:31
2023-12-03 20:24:39
MOVE Trainer Spotlight: Natalie Kreinke